Festivals and Comments
"Sacred Run through Sacred Land" (46'23" / Germany 1994)
Direction, camera, editing, production: Frank Sputh (German and English version)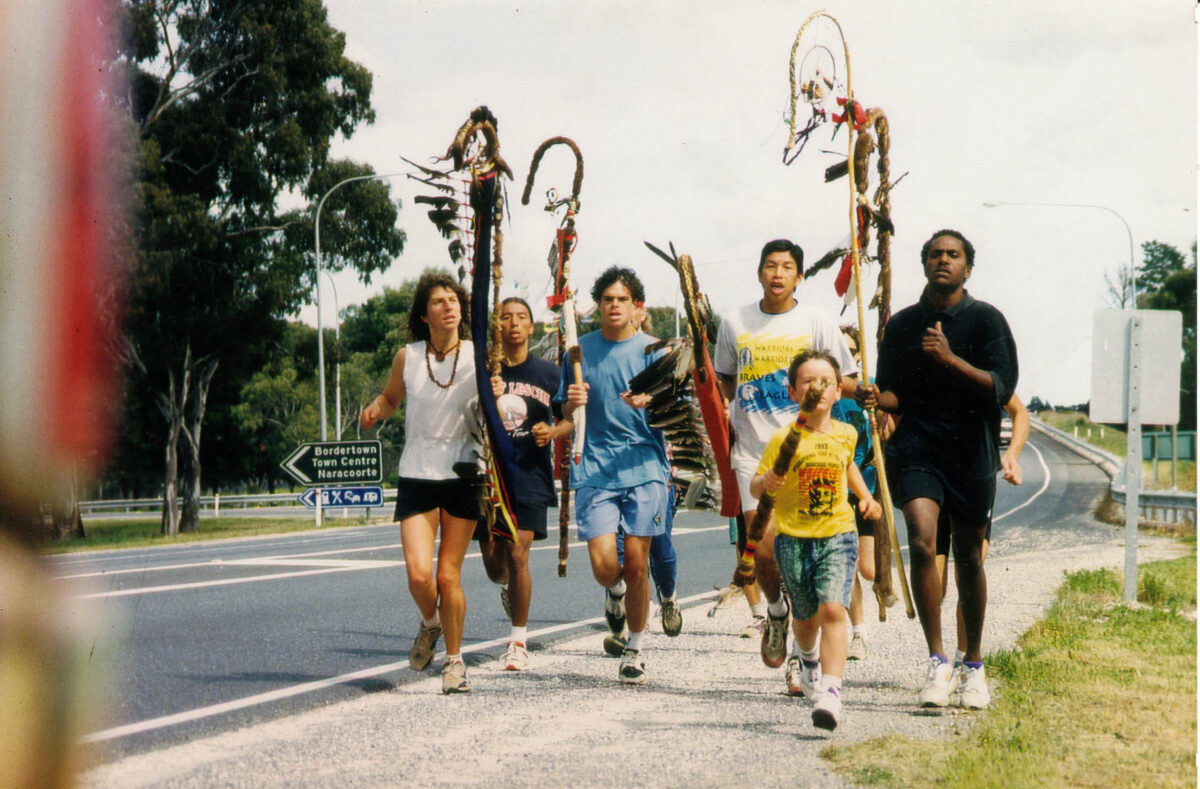 COMMENTS
" ... Enjoyed your beautiful pictures and the great music." Inge Classen (ZDF)

" ... I liked your 'SACRED RUN' so much that I would like to get a quote from you." Birgit Kienzle (SWF)
"The film is - from an artistic point of view - very sophisticated, skillfully shot and edited ... We are ... further interested in your projects."
Hubert Schöne (BR)
"...as you know, I'm a fan of your film project 'SACRED RUN'..." Birgit Kienzle (SWF)

" ... a wonderful film ! ... Have no questions, no criticism. Enjoyed the silence, the time, the essentials. ... I enjoyed above all that there was no questioning, no comparison, no journalistic scrutiny. 'It' is simply there or 'She' is simply there and is power out of itself. This power is there - is palpable. There are so few who feel the earth and even fewer who dance for it. Would love to know more of your plans."
Rüdiger Jahn (filmmaker)
"I really liked the film! ... All the best for your further work!" Nina Johannsen (Protestant Television)

"I liked the film a lot. But unfortunately there are fewer and fewer people who want to see such films. ...If you keep going like this, you will successfully pass the 'Oscar'. I wanted to encourage you to continue with this one direction to go."
Prof. Dr. Lothar Bisky (PDS Chairman)
"A film that is worth seeing. I can say that with a clear conscience." Dieter Schneider in the program "Szene Film aktuell" (Antenne Brandenburg)
"I really liked the film very much."

Katja Nicodemus before an interview for Radio Brandenburg's "Filmjournal" during the 24th Student Film Days at HFF Potsdam
"Many thanks and compliments: the film is very atmospheric and sensitive and really lets you experience the run and the many events and impressions along the way." Beate Schlanstein (WDR)

" ... we suggest you wait a moment until an opportunity arises for your beautiful film. I will inform you about any possibility of acquiring the film on your terms." Larisa Mironova (Russian Television)

" 'Sacred run' provides interesting insights into a foreign cultural world and introduces you to extraordinary people." Werner Thonke (MDR)

" ... a wonderful film ... I was completely thrilled ... a camera culture without equal ... This film would have received the National Award in GDR times." Karl Gass (documentarian)

" ... told with very fine means ... " Georg Ladanyi (filmmaker)
" ... a beautiful film ... it corresponds exactly to my ideas of cinematic art ..." Dr. Ursula Kleinig (Culture and Art Association Kleinmachnow e.V.)
"Compliments for the film. ... I find it dramaturgically extraordinarily well done." Wolfram R. Bauer (Director and Producer - NBF, Athos Films)
"A very good film! It illustrates in impressive images the contrast between our Western, destructive and emptied world and the harmonious world of the indigenous peoples, marginalized or destroyed by us. It makes you think."
Terttu Maria Krätschell (March 2013)

FESTIVALS
23rd International Cinema Festival Figueira da Foz (Portugal) 1994
Film Festival Louisville (Kentucky / USA) 1994

21st Friedberg Film Festival - Days of International Religious Film Friedberg (Germany) 1994 German premiere / opening of the professional film blocks

24th HFF Student Film Days "Seh-Süchte" 1995 in Potsdam (Germany)

"Daniel and the Spirits of the Makah"
Written and directed by: Ralf Marschalleck Camera: Frank Sputh D 1994, 30 minutes, Beta SP

Production: Tele Potsdam in cooperation with UmWeltFilm, Berlin for 3sat/ZDF

First broadcast on 3sat/ZDF: March 13, 1994, repetition: September 20, 1995

Premiered at the Makah in Neah Bay: 8/21/1994

40th International Short Film Festival Oberhausen April 21-27, 1994 (German Competition)
"Cameraman (and 1991 HFF graduate) Frank Sputh finds intensive, sometimes poetic images for this little story, which enchant in the context of music of native Americans." Frank Kober in "POTZ - The Potsdam Magazine" (3 / 1994)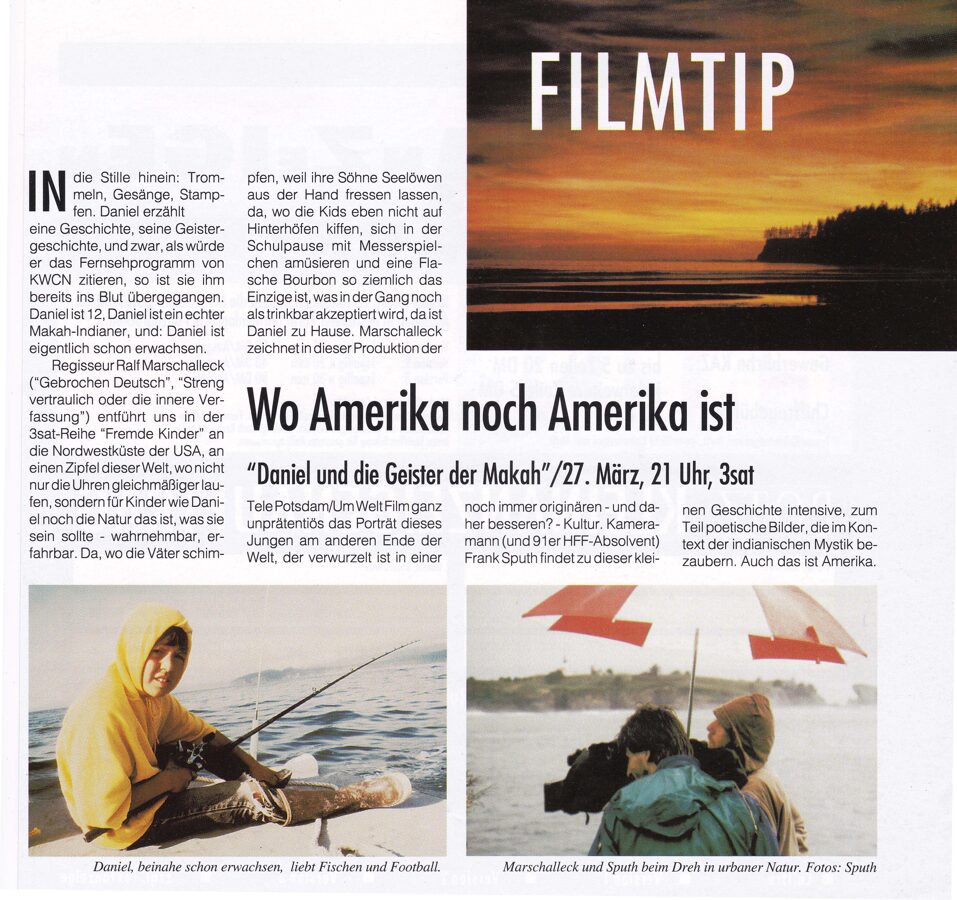 "Coke and Canoe - Indians at Cape Flattery" Portrait of the Makah Reservation, Washington, USA for the ARD series "Countries, People, Adventures"
Written and directed by: Ralf Marschalleck Camera: Frank Sputh D 1995, 44 minutes, Beta SP

Production: UmWeltFilm, Berlin for MDR

First broadcast on August 3, 1995 on WDR and at least 8 other TV broadcasts

World premiere in the Grassi cinema (Leipzig, Germany) on September 21, 1995

20th annual American Indian Film Festival 1995 (San Francisco / California - USA)

honorary diploma for an excellent cinematographic achievement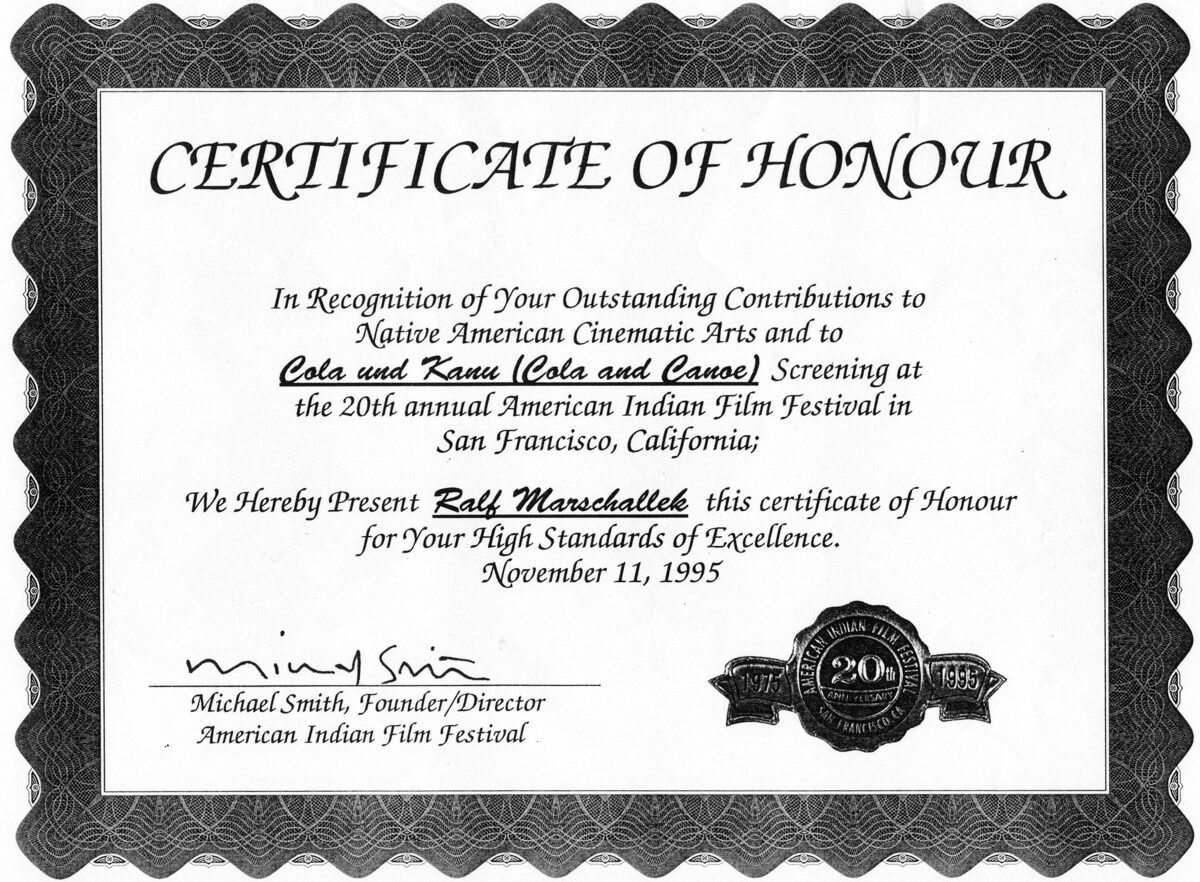 Goettingen International Ethnographic Film Festival 1996
Highlight of the festival, extra screening in the municipal cinema

"This is the high school of the camera." Karl Farber, cameraman

"An impressive film." Leipziger Volkszeitung

"Transylvanian Hay Trail - A Family History"

Written and directed by Ralf Marschalleck Cinematographer: Frank Sputh D 1996, 89 minutes, 16 mm

Production: UmWeltFilm, Berlin for SFB, SWF, WDR

First broadcast on SFB-B1: 10/29/1996, then at least 7 more television broadcasts
20th Duisburg Film Week 1996

one of two East German competition entries

"...Images like paintings..." Gerd Zeiss, Head of Image at SFB-B1

"...the most successful film in the VIEW TO THE EAST series." Editor Barbara Frankenstein, SFB-B1
"...one of the most beautiful films we've broadcast in recent times." Editor Jürgen Tomm, SFB-B1
Most successful film in the program "Transylvania in contemporary documentaries" from February 24th to 26th, 2012 of the Academy Central Europe e.V.; presented on February 25, 9 a.m. in the educational and meeting place "Der Heiligenhof in Bad Kissigen" (Germany)
https://www.siebenbuerger.de/zeitung/artikel/kultur/11851-zeitgenoessische-dokumentarfilme-ueber.html
https://www.siebenbuerger.de/zeitung/artikel/kultur/12052-siebenbuergische-geschichten-in-acht.html
"A very successful documentary about the Transylvanian Saxons."
Municipal cinema Göppingen, March 2013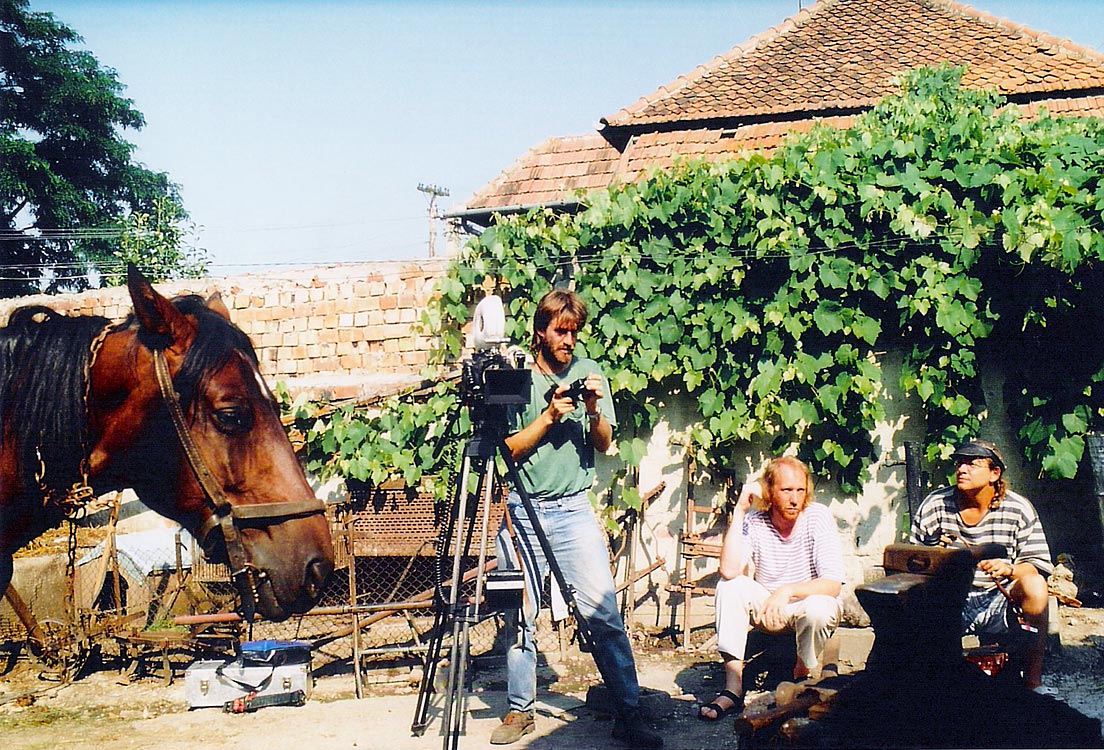 TALKING WITH FISH AND BIRDS - The Záparo Indians in the Ecuadorian Jungle
Director: RAINER SIMON Camera: FRANK SPUTH A Simon/Sputh production

43'20" (D 1999) German, French, Spanish and English subtitled version

First broadcast on ARTE on April 19, 1999 at 7 p.m. with an above-average viewer rating

Brandenburg premiere in the packed Potsdam Film Museum on July 16, 1999
at least 9 TV broadcasts
COMMENTS
"A wonderful film" editor-in-chief Hartmut Sommerschuh (ORB /German Television Channel)
"A great camera work!" Georg Ladanyi (filmmaker)
"... am quite enthusiastic. It is calm, unpretentious and yet not boring .... My congratulations on this successful film."
Dr. Manuela Fischer (Ethnological Museum Berlin-Dahlem)

"... A very beautiful film with remarkable closeness to the people and impressive images." Barbara Kunst (UmWeltFilm, Berlin)

"... seen a very beautiful and exciting and well-made film..." Katja Sambeth

" ... Your wonderful film ... has been selected for..." Mark Soosaar (Pärnu Film Festival)

FESTIVALS
XIII. Thessaloniki Documentary Film Festival - Images of the 21st Century (Doc Fest 13) from March 11th to 20th, 2011 in Thessaloniki (Greece)

43rd Festival de Cine y TV de Cartagena (Colombia) from 28.2.-7.3.2003
VII Festival of European Co-Productions from June 7th to 14th, 2002 in Sofia (Bulgaria)

III. Festival Internacional Cine & Video DerHuMALC from November 16th to 26th, 2000 in Buenos Aires (Argentina) Selection for a television broadcast

United Nations Association Film Festival (UNAFF) in Stanford (California, USA) from October 19 to 22, 2000
XIV Pärnu International Documentary and Anthropological Film Festival from July 2nd to 9th, 2000 in Pärnu (Estonia)
X. Montreal Native Film & Video Festival from June 12th to 21st, 2000 in Montréal (Québec / Canada)
IV Maremma Doc Festival from October 22nd to 24th, 1999 in Pitigliano (Italy) 3rd place in the spectator rating
VI. Festival Americano de Cine y Video de Pueblos Indígenas from August 6 to 13, 1999 in Quetzaltenango (Guatemala) honorable mention
XV. Television workshop on development policy from June 13th to 16th, 1999 in Cologne (Germany)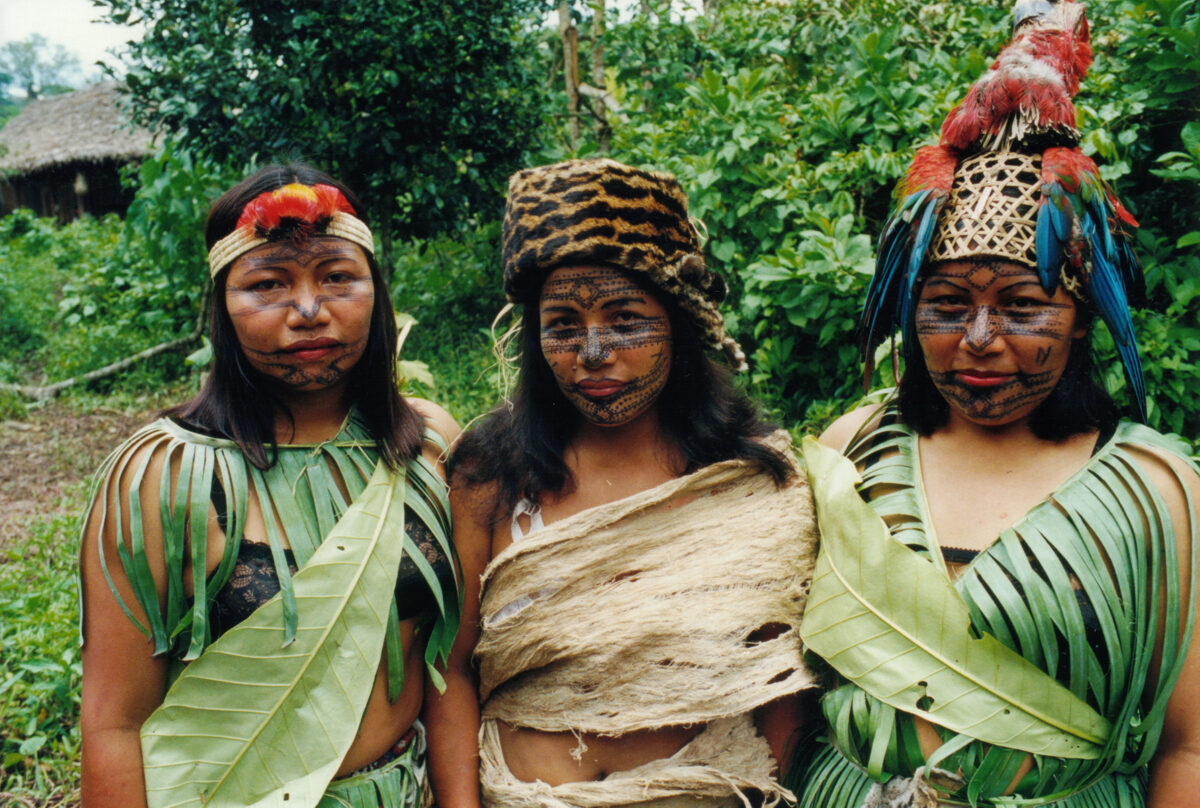 THE CALL OF FAYU UJMU - based on a legend of the Chachi Indians of Ecuador
Director: Rainer Simon Camera: Frank Sputh A Simon/Sputh production
43'40" (D 2002) German, Spanish and English subtitled version
COMMENTS

"Those were wonderful pictures." Kathe Reichel (actress)
"The camera is magical." Astrid Igel (Brandenburg Film Association)
"The pictures were great." Claus Dobberke (director)
" ... the camera was also quite great." Uli Aumüller (journalist)
"...very nice pictures..." Roland Beer (Indologist and publisher)
"... wonderful work..." Claus Deubel (cameraman, BVK)
"...beautiful pictures..." Antonia Lerch (filmmaker)
Review by Joachim Giera in KJK 96-4/2003

Director Rainer Simon on an unusual film project in Ecuador

FESTIVALS
V. Festival del Riu, Tortosa (Spain) from November 26-28, 2004 jury award El Festival del Riu
VII Festival Internacional de Cine y Video de los Pueblos Indígenas from June 18-26, 2004 in Santiago de Chile (Official Competition)
IMAGeNation 2004 - 6th Annual Aboriginal Film and Video Festival, Vancouver (Canada) from February 26-29, 2004
XXX International Film, TV and Video Festival EKOTOPFILM, Bratislava (Slovakia) from October 13th to 17th, 2003
XVIII. Pärnu International Documentary and Anthropology Film Festival from July 6th to 13th, 2003 in Pärnu (Estonia)
43rd Festival de Cine y TV de Cartagena (Colombia) 2/28 - 3/7/2003