Filmography (selection)
2023 "I'm Martha, Colombian" (Documentary / 2h 57' 40" / 4K Cinema) director, camera, sound, editing, finishing, production
I'm Martha, Colombian - ENGLISH TRAILER

since 2004 "Freddy came to Germany" (working title) director, camera, editing, production
Long-term documentary about a boy from Ecuador who came to Germany in early 2004 to live here with his mother and her husband
(filmed in Germany, Spain, Costa Rica and Ecuador) in progress
since 1995 "Getting close is Luck - Among the Aeta in the Philippines" (working title)
Long-term documentary (direction, camera, editing, production) in progress
Photo album "The Aeta of Lumibao (Philippines) 2012 and 1995"

Article by Ricarda Nowak, published in the MAZ (Märkische Allgemeine Zeitung / Märkische General Newspaper) on April 15th 2015


2012 "At the edge of the city - traces of history in Heinersdorf"(camera)
directed by Eckart Lottmann, Berlin / 34'57"
Filmmakers take a look at the history of Heinersdorf (Article in GERMAN)

2011 28 videos of the project BOHEMICA realized by me in 28 days (direction, camera, sound, editing, production, timely upload)
Here is a sample video:
How a dwarf is made of glass / Nový Bor - Czech Republic - 8/22/2011

"We lived it after all - The Riga Ghetto" (camera)

the world's first film about the fate of Jews deported to Riga
Full-length documentary / written & directed by Jürgen Hobrecht / 98'
2010 10 videos for tourism industry
60 to 65 min. each (direction, camera, sound, editing, commentary, production)
2009 Image film for Endres GmbH, Berlin (Unimog general agency)
(direction, camera, editing, production, DVD creation and delivery)
" ... skillfully edited ..." Hans-Rüdiger Endres (CEO) www.endres-berlin.de
" ... was very impressed." Michael Wessel www.unimog-club-gaggenau.de
2008 "Schroeder is in Brazil" (2nd camera, assistance, sound, press photos)
Documentary comedy about Germany and Brazil
Produced and directed by Zé do Rock / 95 minutes / 16:9
Theatrical release in Germany: 5/21/2009 www.schroeder-brasil.com
Highlight of the Göttingen International Ethnographic Film Festival 2008
Schroeder is in Brazil - GERMAN TRAILER

"A Democratic Decision" (Camera)
The last days of the Palace of the Republic of the GDR / Documentary / Director: Nic Nagel / 72 minutes
"Rainforest Flight" (camera, research, production in Ecuador and Colombia)
for Biosphäre Potsdam GmbH with helicopter, light aircraft and hot air balloon
Director: Michael Kann, Sound and Music: Ulrich Sende (11 minutes)
A big thank you goes especially to Alejandro Santillán Magaldi for his valuable help and his generous and warm hospitality !
I also sincerely thank Nubia Osiris Garcia Caviedes for her help and hospitality in Santafé de Bogotá (Colombia), María Fernanda Restrepo Arismendi, Jorge Juan Anhalzer, Juan Diego Perez, José Guayasamin and the death-defying pilot of the light aircraft Jorge Lara from Ecuador.

"One wanted Marx" / working title was: "Jo Jastram and Karl Marx in Ethiopia" (camera)
Documentary film about the world history of Mecklenburg-Vorpommern / 2010 / 30'
Written, directed by Christine Mansfeld / co-written by Ermias Woldeamlak (Ethiopia)
2007 "Anna and Olli" (camera)
fictional short film for two flash players and two screens for special exhibition of Biosphäre Potsdam GmbH "In the Valley of the Geckos"
Directed by Michael Kann
"Man from Milow" and "Tower Skull" (camera and photography)
Film with skull scan footage and 3D animations
Production, direction, animation, editing and post-production: Frank Rinnelt
more than 40 short reports, features and documentaries up to 90 minutes (Digi Beta, HDV, DV)
about 12 hours of ENG (electronic news gathering) and 220 hours of live studio broadcasts and 10 hours of live to tape recordings
"Neighbors 1 - Quito - Ecuador" (idea, direction, camera, editing, production)
Short film / Music video / 1'49"
"A loaf of Bread" (camera)
Documentary, directed by Irene Suris (Argentina)
2003/2004 "Otto and Helga" (camera)

Short Film Exercise of the DFFB, Director: Renata Borowczak
"Marcuse or the Ashes of the Revolution" (2nd camera and camera assistant)
Documentary film project about the German philosopher Herbert Marcuse with Angela Davis
Betacam SP, DV / RBB, HR / Production: UmWeltFilm, Berlin
Director: Thomas Knauf / 1st camera: Thomas Mauch (among others "Heimat 3" by Edgar Reitz
and "Aguirre, der Zorn Gottes" by Werner Herzog with Klaus Kinsky)
"Meseberg" (camera)
Project of a long-term documentary / Director: Uli Aumüller (also 2002)
"AROUND THE WORLD IN 80 DAYS" (camera / EPK)
new version of the famous motion picture with Jackie Chan
Production: Walden Media, USA
2002 "The Call of Fayu Ujmu" (Camera, Production, Distribution)
semi-documentary feature film based on a legend of the Ecuadorian Chachi Indians / directed by Rainer Simon / 43'40"
Collaboration: Samuel Añapa , Alejandro Santillán, Editor: Markus Schmidt, Sound recordist: Alejandro Santillán
Sound design: Raimund von Scheibner, Speaker: Christian Kuchenbuch / Luis Ruiz
Actor: Samuel Añapa (father), Humercindo Añapa Melchior † (Mico), Rosa Piachinche (mother), Maria Chapiro (grandmother),
Lorenzo Añapa (grandfather), Pedro Tenorio Añapa (shaman), Christian Kuchenbuch as guest (Fayu Ujmu)
And many residents of the community Loma Linda de Cayapas
David Añapa played marimba music of the Chachi Indians

How a life came to an end - Ecuadorian Humercindo "Mico" Añapa Melchor - the last days (Article in German)
Many thanks to the residents of Loma Linda and San Miguel de Cayapas for their support and hospitality and to the Management for Bilingual Education of the Esmeraldas Province (DIPEIBE) for its support. Many thanks also to Paulina Paredes and Enrique Daniel Vela Karpova, Cristóbal (Pecas) Corral-Vega and Pocho Alvarez! This film was made possible with the support of the DEFA-Stiftung and the Stiftung Kulturfonds (Germany).
Tortosa Jury Award (Spain) 2004 El Festival del Riu
Festival Internacional de Cine y Video de los Pueblos Indígenas in Santiago de Chile 2004, Official Competition
THE CALL OF FAYU UJMU - based on a legend of the Chachi Indians of Ecuador (Germany 2002)

2001 Making of "Hans Christian Andersen - My Life as a Fairytale" (camera)
Major TV production for Hallmark Channel (USA) about the famous poet
2000 "What matters" (camera)
Documentation about the work of Berlin street workers
Director: Eckart Lottmann, Berlin / DV, Beta SP, 2 parts, 48' and 34'
1999 "Talking with Fish and Birds - The Záparo Indians in the Ecuadorian Jungle " (camera, production, distribution)
Documentary film about the everyday life of the last Záparo Indians in the Amazon rainforest (A Simon / Sputh production)
Director: Rainer Simon / 43'20" / ORB, ARTE (German, French, Spanish and English subtitled version)
Collaboration and sound: Alejandro Santillán, Editing: Katrin Ewald, Narration: Armin Schönberger
Editor: Hartmut Sommerschuh (ORB / German TV channel)
Many thanks to the residents of Llanchamacocha and their guests from Jandiayacu and Masaramo
Bartolo Alejandro Ushigua - Head of the Association of Záparos of Ecuador, ANZE
César Cerda - President of the Organization of Indigenous Peoples of Pastaza/Ecuador, OPIP
Alfredo Viteri, Jaime Cuesta, and Pocho Alvarez
Special thanks to the shaman Manari Blas Ushigua.
First broadcast on ARTE, 19 April 1999, 19:00 with unusually high ratings
at least 9 television broadcasts, Brandenburg premiere in the full Potsdam Film Museum on July 16, 1999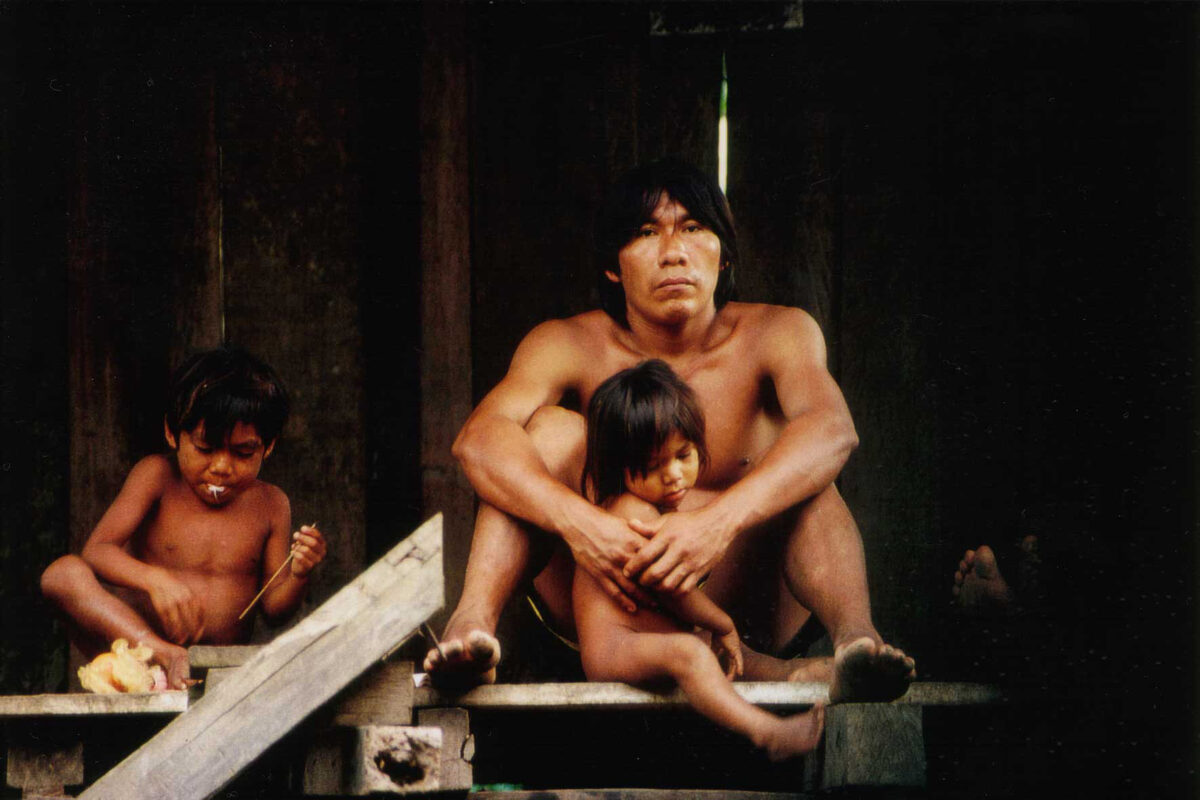 honorable mention in Quetzaltenango (Guatemala) 1999
3rd place in the spectator ranking in Pitigliano (Italy) 1999
Selection for a television broadcast in Buenos Aires 2000
"A very beautiful film" Editor-in-Chief Hartmut Sommerschuh, ORB (German TV channel)
"A great camera work!"
Georg Ladanyi, filmmaker
Talking with Fish and Birds - The Záparo Indians in the Ecuadorian Jungle - Germany 1999

1996 "Transylvanian Hay Trail - A Family History" (camera)
Portrait of a German-Romanian family in a Transylvanian village
Director: Ralf Marschalleck / 16 mm / 89' / WDR, SWF, SFB
Duisburg Film Week 1996 Competition
" ... Images like paintings ... " Gerd Zeiss, Head of Image at SFB-B1
" ... the most successful film in the VIEW TO THE EAST series." Editor Barbara Frankenstein, SFB-B1
" ... one of the most beautiful films we've broadcast in recent times." Editor Jürgen Tomm, SFB-B1
Transylvanian Hay Trail (excerpts GERMAN)
"The Mani - a Negrito People in the South of Thailand" (director, camera, sound, editing, production) 10'

The Mani - a Negrito people in the south of Thailand (German)

1995 "Cola and Canoes - Indians at Cape Flattery" (camera)
Portrait of the Makah Reservation, Washington, USA for the ARD series "Länder, Menschen, Abenteuer" (Countries, People, Adventures)
Director: Ralf Marschalleck / Beta SP / 44' / MDR
Honorary Diploma San Francisco (USA) 1996
Highlight of the Göttingen International Ethnographic Film Festival 1996
"This is the high school of the camera." Karl Farber, cameraman
Cola and Canoe (excerpts GERMAN VOICE OVER)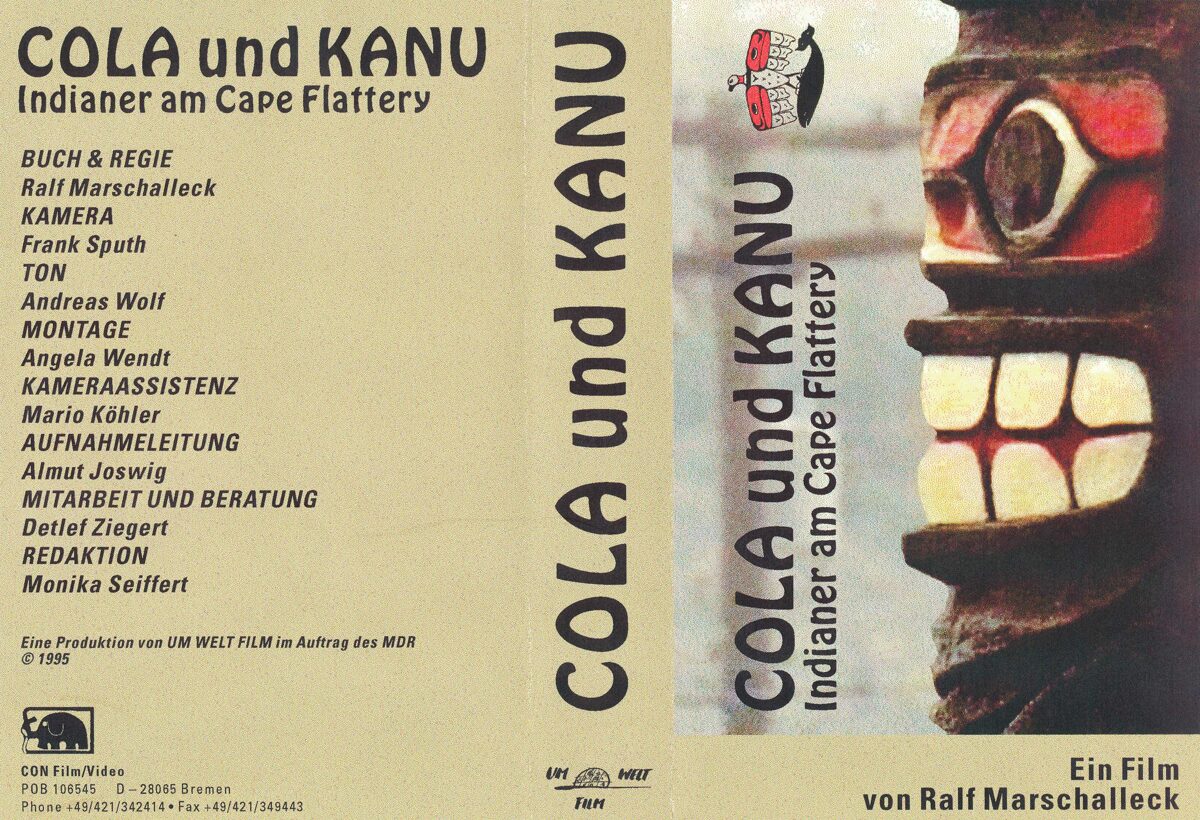 1994 "Sacred Run through Sacred Land" (director, camera, sound, editing, production)
Poetic documentary about the 1993 SACRED RUN through Australia and New Zealand (Aotearoa) / Beta SP / 46'23"
Opening of the professional film blocks of the Friedberg Film Festival 1994
"A camera culture without equal!" Karl Gass, documentarist
" ... a wonderful film ! ... I have no questions, no criticisms. I enjoyed the peace, the pacing, the essence. ... What I enjoyed most of all is that it isn't scrutinizing, comparative or made with a journalistic eye. 'It' is simply there or 'she' is simply there and is power within itself. This power is there - it's perceptible. There are so few who feel the earth and very, very few who dance for her. I'd like to know more about your future plans."
Rüdiger Jahn (filmmaker - Germany)
SACRED RUN THROUGH SACRED LAND - The Sacred Run 1993 Australia / New Zealand (Aotearoa)

"Daniel and the Spirits of the Makah" (camera)
Portrait of an Indian boy on the Makah Reservation, Washington, USA for the 3sat series "Fremde Kinder" (Foreign children),
which was nominated for the Grimme Award in 1995
Director: Ralf Marschalleck / Beta SP / 29' / 3sat, ZDF
First broadcast on March 13, 1994 on 3sat/ZDF, repeat on September 20, 1995 on 3sat

Competition of the Oberhausen Short Film Festival 1994
"Cinematographer (and '91 HFF graduate) Frank Sputh finds intense, sometimes poetic images for this little story, which are enchanting in the context of Native American music." Frank Kober in "POTZ - The Potsdam-Magazine" (3 / 1994)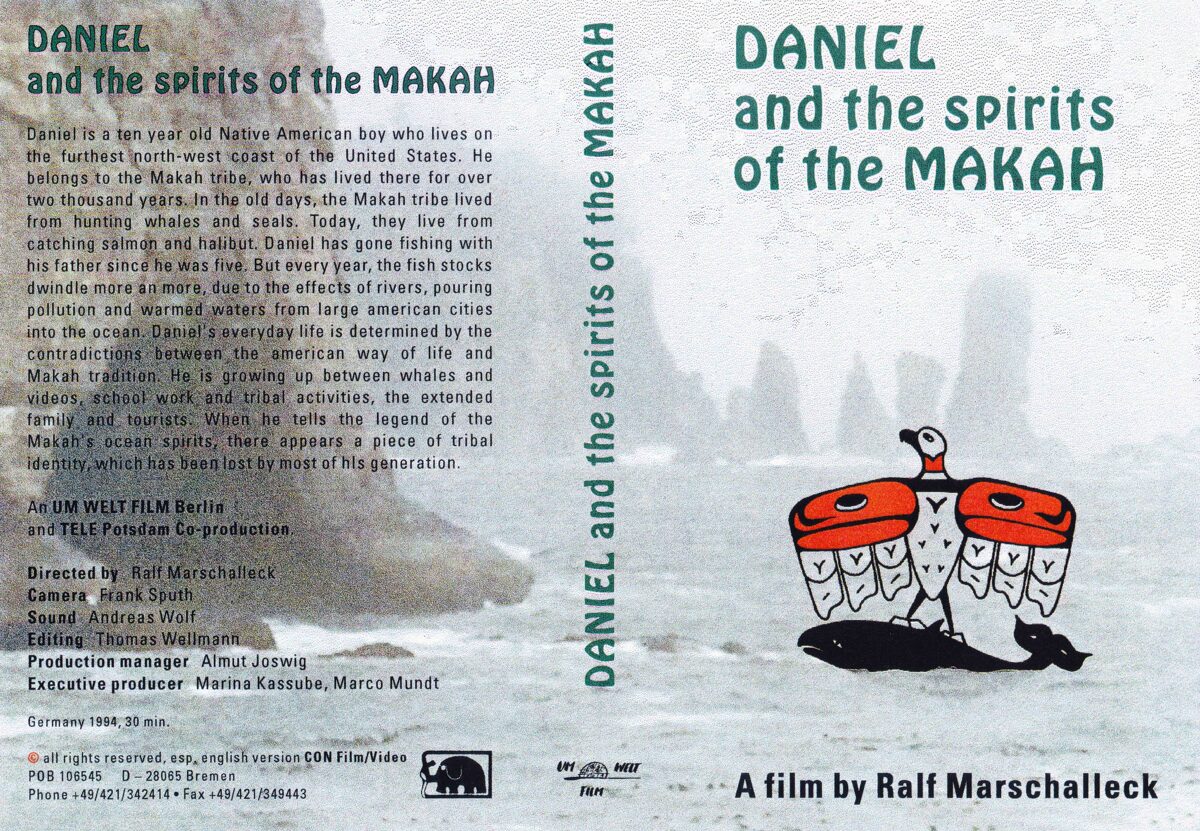 1992 "O Fortuna..." (camera, co-director)
Music video about the end of DEFA (the state film studios of the GDR) / Betacam SP / 2'40"
Frank Sputh, Maik Wieland, Petra Schumann
1990 "Farewell to Green Dreams" (camera)
Portrait of the Syrian poet Adel Karasholi
directed by Firas Al-Dehni / documentary / 16mm / 33'
DFF (German Television), HFF "Konrad Wolf" Potsdam-Babelsberg (Konrad Wolf Academy of Film and Television Potsdam-Babelsberg)
"Factory trawler Atlantic" (camera) A copy without sound is kept in the Federal Film Archive of Germany.

Director: Reiner Burmeister / 35 mm / DEFA, HFF
Industrial advertising about one of the largest fishing, catching and processing ships in the world

My film project "Nachrichten vom Festland" ("News from the Mainland") about the WENDE in Germany, recounting the events of August to November 1989, experienced from the high seas, unfortunately failed because I was busy editing the material after completing the promotional film "Fabriktrawler Atlantik" ("Atlantic Factory Trawler") beyond my exmatriculation from the film school. At the HFF, it was customary to put the film reels in a corner in the editing room with a note on top: "Please leave it!" That worked for a while, but one day they were gone: eleven thousand meters of 35mm prints and the cut in progress. Maybe a student had needed space? I was not informed and could never find out who had disposed of the material and where. Unfortunately, too late, I researched the negative and any other materials that might still exist. Presumably, the negative had been stored at the Babelsberg copying plant and also thrown away after its insolvency. When, after numerous attempts, I got a responsible spokeswoman of the former Volkswerft Stralsund on the phone, she asked, meaningfully, in response to my question about material from this project, whose client was the shipyard, whether I did not know how much the shipyard had shrunk. They would have had to dispose of everything. The only thing I was able to save was our sound recordings. The director sent me all the audio cassettes at some point upon request. Should I try again? Add a new soundtrack to the industrial film?

Backlog demand - article by Jana Haase in PNN from July 18th 2009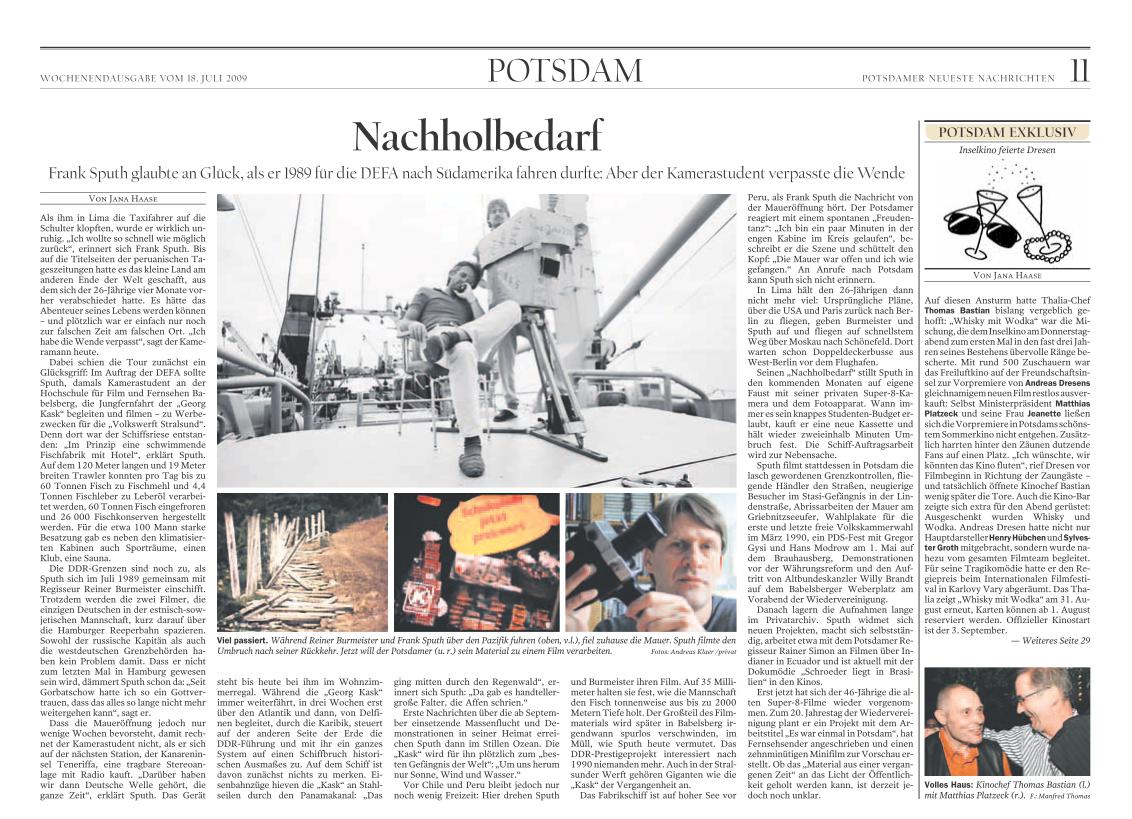 1989 "At night all the lights are bright" (camera, idea, direction, editing, music selection and mixing)

experimental music video, mainly realized in Berlin at night using variable image frequencies - time lapse and slow motion - with jazz rock soundtrack by UNIT - Wolfgang Fiedler, Gerhard Eitner, Volker Schlott / 16 mm / 12' / HFF "Konrad Wolf"

public premiere during the 18th HFF student days in the Thalia cinema in Potsdam-Babelsberg on April 24, 1989
"Jens Becker and Frank Sputh, who knew how to deal with the language of the picture in an original way in their directing and lighting exercises, aroused particular interest. While Frank Sputh skilfully used light and color effects with the camera to characterize the city of Berlin..."
Frank Kober in the newspaper "Märkische Volksstimme" from April 25, 1989, Cover page: YOUNG FILM INTERNATIONAL
1988 "Half of life and more" (camera) Portrait of the sick milker master Gerhard Warnke from the Mecklenburg village of Vierow

Director: Firas Al-Dehni / doc. / 16 mm / 15' / HFF "Konrad Wolf" Potsdam-Babelsberg

"Praise was unanimous for the young cineastes and their works. Experts (in the packed auditorium sat directors and critics as well as representatives of both universities, in addition to 'only' interested people) even said that these films were incomparably better than the recent GDR competition entries in Oberhausen and Leipzig. They testify to the sensitivity, perspicacity and willingness to take risks of a new generation."
M. Merán in the Budapester Rundschau No. 22 of May 29th 1989 in the article "Podium for young German and Hungarian filmmakers"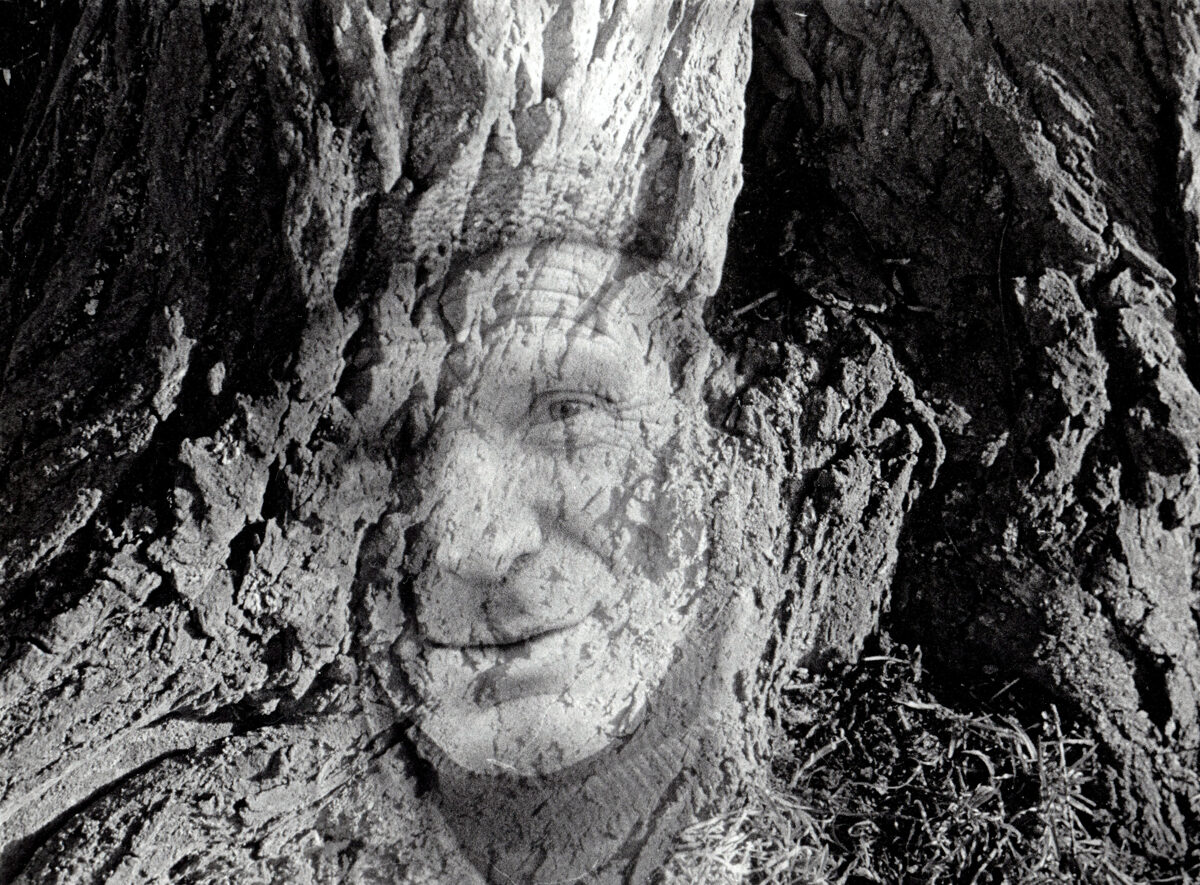 1987 "Al(u)fred or Mosquito on the Bridge" (camera)
Short portrait of a worker in the aluminum processing department of BMHW Berlin-Schöneweide

Director: Firas Al-Dehni / doc. / 16 mm / 7' / HFF "Konrad Wolf" Potsdam-Babelsberg
Participation in the XXX. Leipzig Documentary and Short Film Week 1987 as the overall program of the 1st year of study at the "Konrad Wolf" Academy for Film and Television in Potsdam-Babelsberg / Title: "Started conversations" (68'22" / 1987) "... just the program of the Babelsberg Film Academy , which is traditionally a highlight of the Leipzig Film Week, was also a magnet for an enthusiastic audience this year." (In: Blum, Heiko R.: Search for another truth: Observations at the thirtieth documentary and short film week in Leipzig. Stuttgarter Zeitung - Stuttgart newspaper - of November 29, 1987)